community
The Mercury Group and it's employees are proud to be active supporters of many local charities and organizations including:
Rise and Walk Foundation – Fundación Levántate y Anda, is a non-profit organization headquartered in Bridgeport,  CT, with a branch in Bogotá, Colombia. Their mission to help needy families develop their spiritual, intellectual, psychosocial and financial potential in order to contribute to society. For more information, please visit their website.
  The mission of Kids CAN Do is to use the ongoing collection of redeemable beverage containers to raise funds to support a diversity of children's charities in Connecticut.  The monetary assistance has an ongoing positive impact on individuals and families who need assistance. For more information, please visit their website.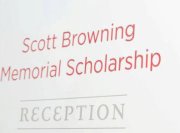 The Browning Memorial Scholarship makes a college education possible to deserving students at Sacred Heart University in Connecticut. The fund was started in 1987 by Jim Browning in memory of his brother Scott Browning. For more information, or if you would like to donate to the scholarship, please visit their Facebook page.